Compositions with Movement:
Alexander Calder's "Mobiles à Moteur".

Calder (...) says that during a visit to Mondrian's studio, in the rue du Départ in Paris, he received a vision of a new art form (...). Mondrian's studio was an extraordinary room, with small, movable red, blue and yellow rectangles on the white walls, and a large, red, cylindrical gramophone in the middle of the floor (..). Calder writes: "... the light coming from two facing windows met in the room, and I thought how beautiful it would have been if everything had started to move, but Mondrian didn't like the idea." (...)
Hultén 1955, p. 19. [Cf. also: Calder, 1937.]
Calder did not heed Mondriaan's advice, and developed a form of "kinetic constructivism" in his "Mobiles à moteur" (1931): different elementary shapes: line, spiral, circle, ball; different elementary colors and black/white/grey; different elementary movements: rotation, pendulum, virtual translation; rotation-axis in the picture-plane or orthogonal to it.

Calder describes one of these works as follows:
• Dimensions: 2 x 2.50 m.
• Frame, 8 cm., neutral red.
• The two white balls rotate at a high speed.
• The black spiral rotates at a lower speed and appears to be constantly climbing.
• The tin disc turns even more slowly, the two black lines appear to be constantly climbing.
• The black pendulum, which is 40 cm. in diameter, climbs to 45° on each side with 25 strokes a minute and swings outside the frame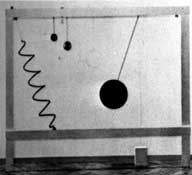 Mobile à Moteur
"Red Frame", 1931.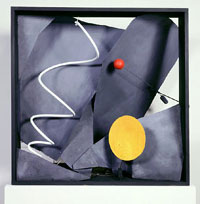 Mobile à Moteur
"Black Frame", 1934.